NEWS
JULY, 2022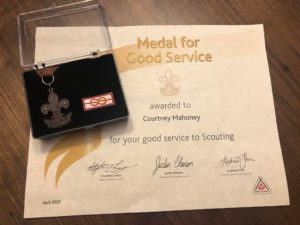 CONGRATULATIONS COURTNEY!
Our Senior Administrator, Courtney Mahoney, was recently recognized by Scouts Canada with a "Medal for Good Service", in recognition of her significant contributions as a volunteer. Congratulations Courtney!
MAY 14, 2021

WE ARE HIRING: INTERMEDIATE GEOTECHNICAL ENGINEER
Our Kingston office is seeking an intermediate geotechnical engineer to join our growing team. Responsibilities of the role will include, but are not necessarily limited to:
Supporting project development and delivery, project management, client relations, team development and training;
Undertaking data reduction and providing technical support for various geotechnical analyses (e.g. for provision of shallow and deep foundation design, slope stability, embankment support or settlement accelerations, etc.);
Drafting proposal documents and technical reports;
Undertaking or assisting with field work as necessary, including drilling/test pitting;
Review of geotechnical aspects during project construction phases;
Travelling will be required, from time to time, to support our work in other  areas of the province;
Review of select aspects of a CCIL certified materials testing laboratory;
Functioning as a key participant in team and client meetings;
Assisting with identifying and minimizing our exposure to risks across projects;
Requirements of the successful candidate:
6+ years of relevant working experience since graduation, preferably in a consulting environment;
Licensed Professional Engineer in the province of Ontario. Candidates that hold an L.E.T. designation may also be considered, with an appropriate type and level of work experience.
Excellent communication skills (both oral and written) – a sample of a written work product that you drafted will be requested, should you be contacted for an interview, e.g. a report or technical document in the public domain. Please be prepared to submit, should we contact you;
Bachelor's or post-graduate degree in Geotechnical (Civil or Geological) Engineering;
Firm understanding of fundamentals of technical analysis;
Familiarity with geo-environmental industry design and drafting software is an asset (e.g.  Rocscience Slide, gINT, Surfer, Voxler, etc.);
Maintaining a high standard of professionalism and demonstrating a commitment to our Core Values;
Valid driver's license, clean driver's abstract, and own vehicle (company vehicle(s) may be available for use on occasion) – travel costs are reimbursed;
Interested applicants should submit a cover letter and CV to malroz@malroz.com by February 5, 2021.
APRIL, 2021
BENEFICIAL REUSE OF EXCESS SOIL AT AGGREGATE PITS AND QUARRIES
Malroz principal David Carnegie recently participated in a multi-month steering committee convened by the Ontario Society of Professional Engineers (OSPE) to develop a scientific report and best management practice document regarding the rehabilitation of aggregate pits and quarries with excess soil, in light of recent new regulation governing the beneficial reuse of excess soil. The steering committee included representatives from the consulting services sector, aggregate site owners/operators, Ontario Stone, Sand and Gravel Association, Conservation Ontario, the Ministry of the Environment, Conservation and Parks, the Ministry of Natural Resources and Forestry, and the general public. The documents are available for download at the OSPE website here.  Contact us if you would like to discuss excess soils and your project!
JULY 2, 2019

OPENING OF MALROZ MATERIALS TESTING LABORATORY
Malroz offers a full range of concrete, soil and aggregate testing services to our Clients, with fully qualified field technicians and a materials testing laboratory located at 745 Development Drive.
Our laboratory is certified by the Canadian Council of Independent Laboratories (CCIL) as a Category 1 concrete lab and Category C soil/aggregate laboratory (Category D pending).
Testing we offer includes:
Concrete sampling and compressive strength testing;
Gradation testing (mechanical sieve and hydrometer methods, including T-time estimation)
Moisture content determination
Plasticity testing (Atterberg limits)
Proctor testing
Unconfined compressive strength testing of rock
Micro Deval abrasion testing
Aggregate soundness by freezing/thawing and magnesium sulphate methods
MAY 8, 2018

STEVEN ROSE RECEIVES OSPE PRESIDENT'S VOLUNTEER AWARD
Malroz Vice President Steven Rose was recently awarded a 2018 OSPE President's Volunteer Award. The award recognized Steve's role in preparing the 2016 Excess Soil Report which was presented to Ministry Policy Analysts and several Provincial Team and Departments.